Hii, Guy Here a Cashback offer on Amazon Shopping Where Do a first Money Transfer of the month of minimum Rs 100 on Amazon, and unlock shopping Cashback Coupon on Amazon.in. This offer is valid maximum Five times per customer during the offer period. So do 5 MOney Transfer and Unlock 5 Shopping Back Coupon.
Here How You Get This Offer –
Go To Amazon Pay Section and Send Money
You will receive an email with the offer details and a 'collect offer' option
Collect Offer and Get Cashback up to Rs. 250!!
Offer Validation –
Offer is valid until 12 PM on 1st May, 2020. Unlocked shopping offer is valid from 8th April, 2020 until May 8, 2020. The offer is valid max once per customer across Money Transfer If a customer has received this benefit for any of his/her mobile recharge or bill payment, he/she cannot avail the same benefit again on another mobile recharge or bill payment.
Only customers who see this offer and then does a mobile recharge or bill payment on Amazon will receive this shopping 'collect offer' unlocked over email/SMS. Post clicking on 'collect offer' and 'order now', customer can do the shopping transaction to avail the cashback eligible as per the order.
This shopping offer is applicable across all shopping products on Amazon.in except on select products Recharges, bill payments, load money, gift cards, Kindle e-books, Laptops, TVs, Mobiles, Precious Jewellery, Furniture, Forrest Essentials, Smartphones, ovens, dishwasher, chimney, Fridges, Washing Machines, Large Appliances, Fridges, Prime membership, Gift Cards.
Related Screenshot –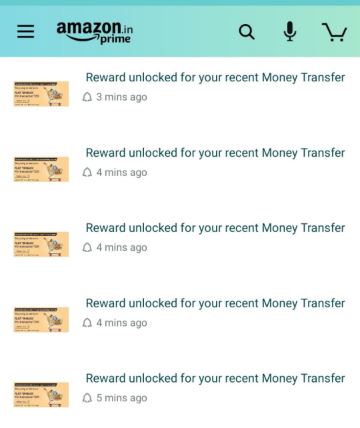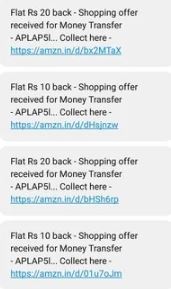 Do 5 Money Transfer and Get Shopping Back Coupon [ User Specific ]